On May 24, Li Jun, member of the Standing Committee of the Municipal Party Committee and Minister of Propaganda, made a special trip to the company for research and work. Chairman Lou Guoqiang and other company leaders warmly received Minister Li and his party, and accompanied them to visit the copper tube workshop and the copper strip 650 workshop.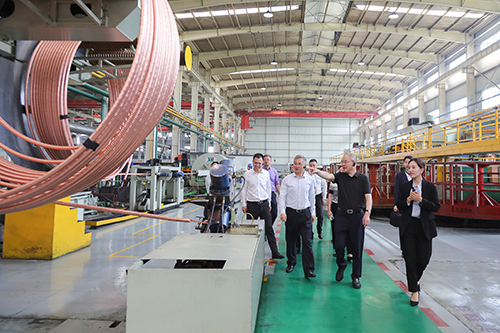 During the visit and the discussion, the company leaders introduced the company's production status, corporate culture and business development to Minister Li in detail. Minister Li fully affirmed and appreciated the company's modern production equipment and management level, and further understood the characteristics and application fields of copper products, and pointed out that it is necessary to continue to promote the copper industry, give full play to Jintian's leading advantages, and support the company Continue to grow bigger and stronger.
Secretary of the Standing Committee of the District Party Committee and Minister of the Propaganda Department Bu Mingchang, senior vice presidents Cao Lisu, Ding Xingchi, Zheng Dun, and vice president Liang Gang accompanied the investigation.