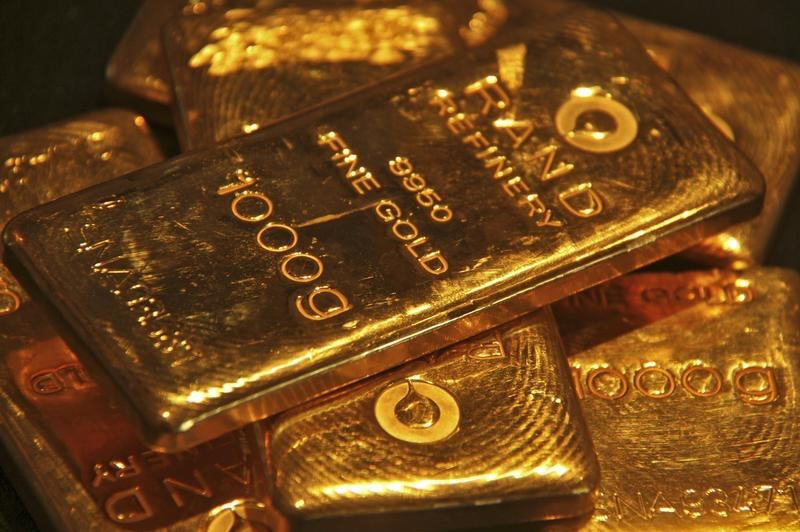 Gold and copper prices were little changed on Wednesday as the dollar remained pinned to 20-year highs amid growing concerns over a looming economic slowdown.
Spot gold was largely unchanged from its previous close at $1,628.67 an ounce, while gold futures sat at $1,635.90 an ounce by 19:39 ET (23:39 GMT). Both instruments rose briefly on Tuesday as the dollar retreated from 20-year highs, easing some pressure on gold.
But a continued rout in the stock market and increasing fears of a potential recession drove capital flows back into the greenback. The dollar has surged this year on an extremely hawkish stance adopted by the U.S. federal reserve, with rising interest rates making the currency a more attractive safe haven than gold.
Bullion prices now sit comfortably in bear market territory, having slumped over 27% from a 2022 high hit in the initial days of the Russia-Ukraine conflict. Prices recently blew past two major support levels, and are expected to weaken further in the near term.
"The dominance of the U.S. dollar has hit sentiment across the commodities complex and gold has not been spared in this move. Higher yields increase the opportunity cost of holding gold, which appears to be turning investors off the yellow metal," analysts at ING wrote in a note.
The bank now expects gold to finish the year at around $1,650 an ounce, with major relief for the yellow metal only coming when the Fed decides to temper its hawkish rhetoric.
Among industrial metals, copper prices kept to a tight range as traders expected further near-term weakness in demand.
Copper futures were down marginally at $3.2920 a pound. Prices of the red metal have plummeted this year amid growing concerns that a recession will dent industrial activity and hurt demand for copper.
Weakening economic prints from China, the world's biggest copper importer, have been of particular concern to markets, as have signs of slowing industrial activity in Europe and the U.S.
Focus this week is on Chinese manufacturing data, due on Friday, which is expected to show a further decline in activity.