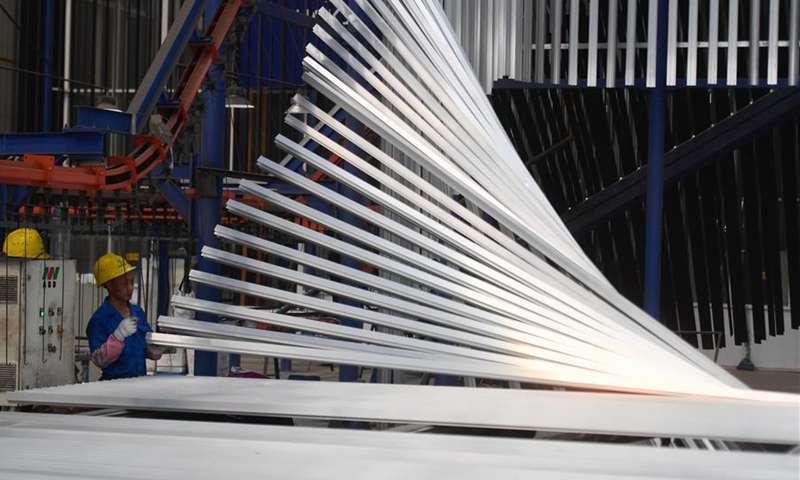 A worker is busy at a workshop of Hongchang Aluminum Industry Co., Ltd. in Wuxing District of Huzhou, east China's Zhejiang Province, July 29, 2020. (Xinhua/Huang Zongzhi)
Chinese authorities on Wednesday released a new batch of metal reserves, including copper, aluminum and zinc, in the latest move to help stabilize skyrocketing prices mainly due to external factors that have exerted great pressure on Chinese factories.
Meanwhile, as prices of aluminum and other metals continue to soar, a senior official called for more measures to increase China's influence in global price-setting.
In order to ensure supply and stabilize the prices of bulk commodities, the National Food and Strategic Reserves Administration released a third batch of state reserve copper, aluminum and zinc, totaling 150,000 tons, according to media reports.
More reserve raw materials will be released to ease the pressure on raw material costs of enterprises and give play to the regulatory role of the reserve market, media reports said.
The latest move came as aluminum price in China has reached a 15-year high after months of increases ignited by resilient demand, US monetary easing and market hype.
According to Wind data, Shanghai aluminum prices peaked at 21,500 yuan ($3,326) a ton recently. LME aluminum prices topped $2,700 a ton, the highest level in nearly a decade, media reports said.
The reasons for the price hikes include an unprecedented monetary easing in the US and other countries, an official with the China Nonferrous Metals Industry Association said.
With trillions of dollars worth of monetary easing, the US' irresponsible move has pushed up the market prices of bulk commodities around the world, analysts said.
Against the backdrop of rising prices, some producers saw their costs increase about 40 percent in August compared with the same period last year, and the delivery time for the raw material to their factory has also been extended.
A manager with a Guangdong-based aluminum products factory told the Global Times on Wednesday that the company is spending more time adjusting price settings with traders and clients to achieve reasonable deals.
The factory does business with wide range of international clients including those in the US and some European countries. The manager said foreign clients agreed to cover most of the additional costs, and demand remains resilient.
To rein in prices, the Chinese government has launched a series of crackdown measures, and the prices of some raw materials such as iron ore have fallen sharply since May.
To further ease the "irrational" price, Fang Xinghai, vice chairman of the China Securities Regulatory Commission, told a futures forum on Wednesday that China should increase its influence in setting global bulk commodity prices, as it continues to pursue market opening.