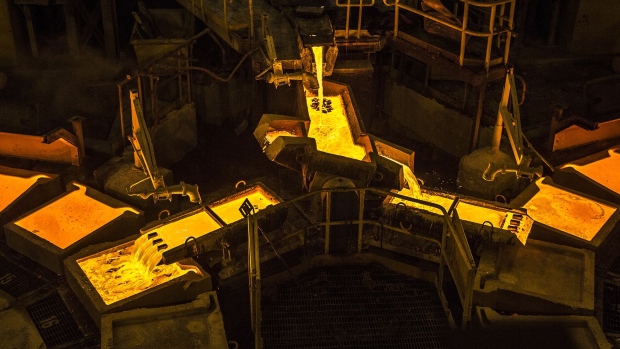 Molten copper pours into ceramic molds to form plates at the Southern Copper Corp. smelter facility in Ilo, Peru. , Photographer: Dado Galdieri/Bloomberg
(Bloomberg) — Codelco offered to supply copper to European customers at a $128 premium over futures next year, signaling that the world's biggest copper miner expects strong demand to continue even as growth headwinds swirl.
Codelco boosted its annual premium by $30 a ton, according to a person familiar with the matter who asked not to be identified discussing private information. The offer is $5 higher than the premium announced by leading European producer Aurubis.
The miner made its offer at the start of London Metal Exchange Week, when producers, consumers and traders convene in the U.K. capital to thrash out supply deals for the coming year. While copper demand has been booming, rampant inflation and the burgeoning global energy crisis are casting a pall over the growth outlook. Rising freight rates have also raised costs for suppliers like Codelco.
Read more: Copper Bulls Get Electric Shock as World's Factories Slow Down
One key risk for manufacturers is that the global economy shifts into a period of stagflation, where demand in sectors like consumer goods and construction plunges while raw materials prices remain stubbornly high.
Even so, with unprecedented stimulus funding now feeding its way into metals-intensive renewables projects, manufacturers are also conscious of the risk that demand will outpace supply. Nexans, a leading cable-maker, has said it will bulk up in copper recycling to insulate itself against future shortages.
https://www.scrapmonster.com/news/-/1/81149
London Metal Exchange Announced Launch of 'Tomorrow Metals by Aurubis'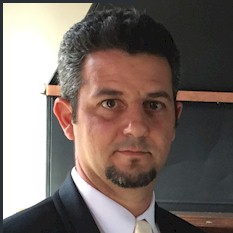 By Paul Ploumis
ScrapMonster Author
The copper cathodes by the company comprise more than 40% recycling material.
SEATTLE (Scrap Monster): Aurubis announced launch of new label "Tomorrow Metals by Aurubis" at the London Metal Exchange. The new label, launched during the London Metal Exchange Week, highlights the Group's strong focus on sustainability.
The company has invested more than € 670 million in environmental protection measures since 2000. This has led to major achievements, including 96% reduction in dust emissions to air and 88% reduction in metal emissions to water during the copper production process.
Aurubis targets to reduce its carbon dioxide footprint significantly over the forthcoming years. It aims 50% cut in Scope 1 and 2 emissions per ton of copper produced by 2030, compared with 2018. In addition, it targets to achieve 24% reduction in Scope 3 emissions. The per ton carbon dioxide emission by the company is only half when compared with its competitors.
The copper cathodes by the company comprise more than 40% recycling material. It will focus on expanding its recycling capabilities in future in order to further promote the circular economy of metals.
Roland Harings, CEO, Aurubis noted that 'Tomorrow Metals by Aurubis' reiterates its commitment to constantly deliver more value with less environmental footprint. Being the most sustainable smelter in the world, it aims to set highest standards in energy efficiency and environmental protection.
https://www.reuters.com/article/global-metals/metals-copper-extends-losses-on-worries-about-china-property-growth-idUSL1N2R20FS?rpc=401&
COMPANY NEWS
OCTOBER 6, 202112:47 PMUPDATED 5 DAYS AGO
METALS-Copper extends losses on worries about China property, growth
By Eric Onstad
3 MIN READ
(Updates prices)
LONDON, Oct 6 (Reuters) – Copper prices slid on Wednesday on worries that the troubled Chinese property sector will further curb Chinese economic growth and metals demand.
Three-month copper on the London Metal Exchange had dropped 1.1% to $9,070 a tonne by 1615 GMT after it gave up 0.9% on Tuesday.
Volatility rose due to the LME options expiry on Wednesday and thin volumes since China is on holiday from Oct. 1-7, a trader said.
Construction is a major driver of copper demand and other Chinese property companies have seen their bonds battered by uncertainty surrounding debt troubles at China Evergrande.
"That (Evergrande debt) issue is weighing on the market because that probably will have an impact on construction and industrial activities from a sentiment perspective," said Xiao Fu, head of commodity market strategy at Bank of China International.
"The sentiment drag and the power constraints are likely to curb growth, but we're not expecting a 'falling off the cliff'scenario, just slower growth in the coming months."
While sentiment has been knocked, actual consumption of base metals in construction will still continue due to the large number of housing projects ongoing, although at a slower pace, Fu added.
"The projects that Evergrande started will likely be completed, although it may take longer, and at the late stage of construction, base metals are actually used more."
Inflation worries are also hitting wider financial markets after oil prices hit their highest in seven years.