China plans to auction reserves of copper, zinc, and aluminium in a bid to drive down prices. Will this result in another leg lower after recent declines?
China plans to auction key commodities in a bid to drive down prices
Recent talk that the Chinese will release reserves of key commodities to the market have provided another reason to temper bullish sentiment for one of the biggest areas of upside seen throughout 2020.
Chinese demand has been a key driver of gains in commodity prices, yet that rise in underlying input prices have ultimately led to a situation where growth is being stifled as a result.
Thus, today's announcement from China is just the latest in a protracted attack on key commodity valuations, with the world's biggest consumer of raw materials opting to auction 170,000 tonnes of metals from state reserves on 29 July.
That consists of 30,000 tonnes of copper, 90,000 tonnes of aluminium and 50,000 tonnes of zinc. With that in mind, we could see some further selling pressure come into play as we move forward.
With that in mind, it is worthwhile looking at these assets to gauge whether they are at risk of a bearish reversal or simply set to maintain the bullish momentum established last year.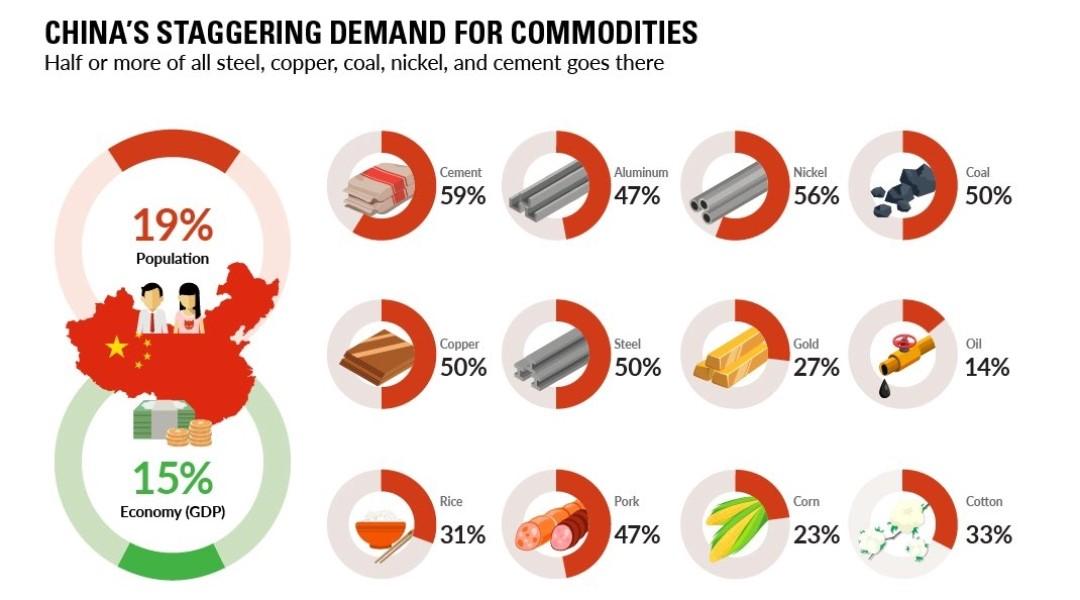 Source: visualcapitalist.com
Zinc
Zinc is one commodity that appears to be at risk here, with price having broken down through trendline support back in mid-June. That raises the risk that the subsequent rebound falls short of the prior high.
With that seemingly having occurred as the zinc price rolls over from the 76.4% Fibonacci zone, there is a chance we could see another leg lower from here.
Watch for a decline through the $2.904 support level for that bearish momentum to come into play.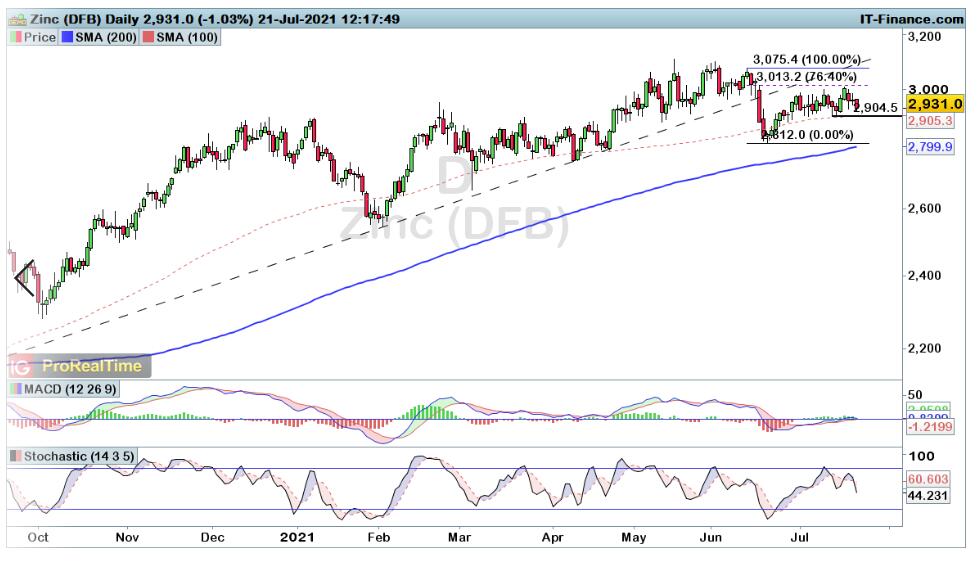 Source: ProRealTime
Copper
A similar breakdown through trendline support for copper prices highlights the potential for a deeper decline going forward. Despite that trendline breakdown, the uptrend remains intact given the pattern of higher lows.
That highlights the importance of the 76.4% Fibonacci level, which has provided the absolute low of this pullback thus far ($4.0958). However, while price initially rallied from that level of support, we have subsequently seen the 61.8% Fiboniacci resistance level drive price down once again.
That decline could take us back into the wider $4.0945 low from June, which would provide a key hurdle to overcome is the bears are to remain in charge. As such, watch for further short-term downside, with a rise through the $4.599 level required to bring about a more positive outlook.
However, we would require a move below $3.8505 to bring a wider reversal signal for this key commodity.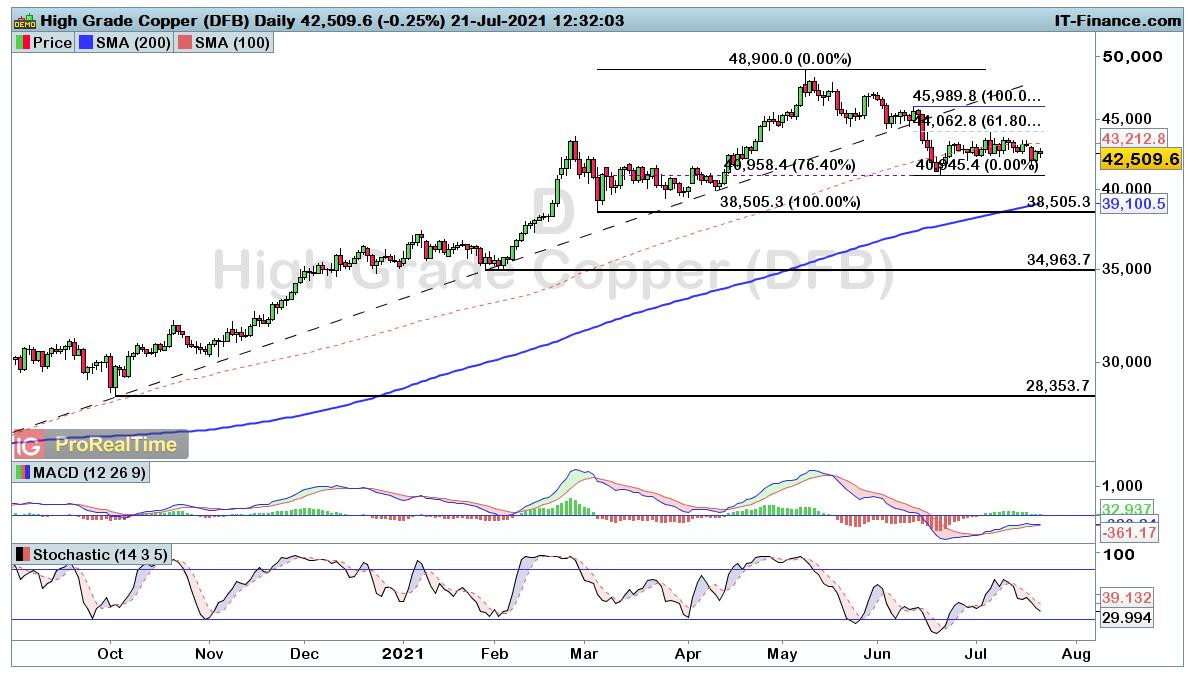 Source: ProRealTime
Aluminium
Aluminium prices have been unaffected by today's news thus far, with initial weakness being recovered. The risk-off moves seen this week led to a break below the $2432 level.
However, that does not necessarily end the recent bullish trend, with a break back below $2355 required for such a wider bearish picture to come into play.
Until then, there is a good chance we see the price turn higher from this deep retracement to continue the bullish pattern seen over recent months.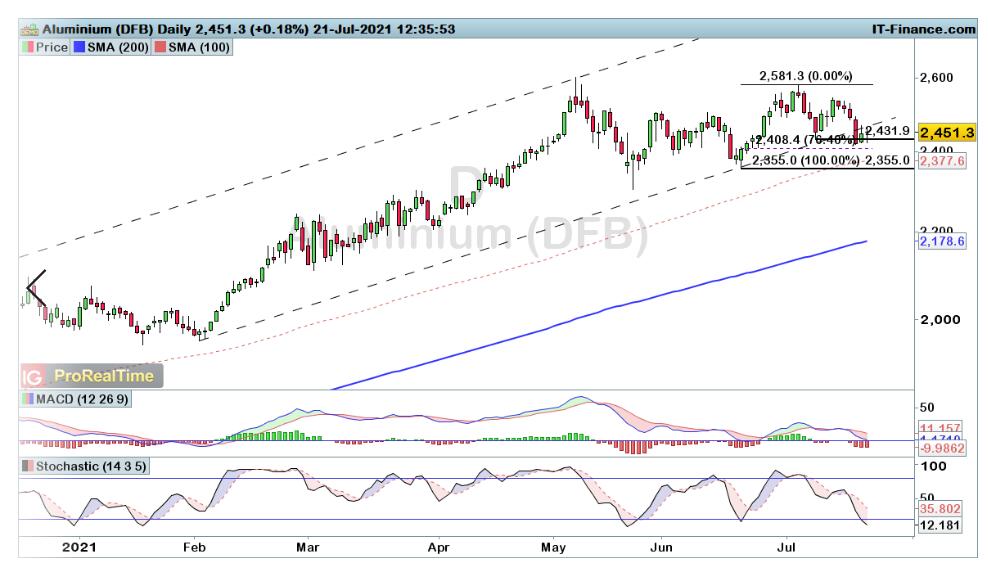 Source: ProRealTime