On-warrant copper stocks on the London Metal Exchange (LME) recently surged to a 13-month high, removing a pillar of support that propelled prices for the red metal to an all-time peak.
Available stocks across LME warehouses have more than tripled since copper prices on the exchange hit record highs eight weeks ago, helping push copper prices down as a result (see graph). On-warrant stocks surged to 203,875t on 25 June, their highest level since 28 May 2020 and a 222.6pc rise from 63,200t registered on 4 May.
In that eight-week period, the three-month copper price on the LME shed 15.4pc to a recent low of $9,070/t on 21 June, down from the all-time high of $10,720/t on 10 May as increased warehouse availability eased some nearby supply concerns that had contributed to upward support to copper prices.
Prices have regained some ground in the past two weeks but remain more than $1,000/t below record levels.
On-warrant tonnages have been largely below 100,000t for much of the past year after stocks rapidly declined in the second quarter of last year (see graph). Daily LME on-warrant stocks averaged 84,654t between January and June of 2021, down from an average of 161,859t at the same time last year and 139,113t in 2019.
Low inventories among other supply-side concerns, as well as bullish sentiment and strengthening demand, were key pillars of support for a 131.7pc increase in the LME copper price from multi-year lows in March last year to its record high in May.
Off-warrant stocks also fell as copper prices began to rise to record levels. Off-warrant stocks fell to 67,378t at the end of April, down by 32.81pc from the 100,275t registered in March and the lowest level since data began to be compiled in February last year, the most recent LME figures show.
The International Copper Study Group said the global copper market was in deficit in March as usage outweighed output, swinging from a 108,000t surplus in February. Despite the month-on-month swing, the global market was in a surplus of 129,000t for the whole of the first quarter, tightening from 154,000t in the same period last year.
But rising inventories across LME sheds have removed some upward price support for copper. Further supply-side pressure to counteract upward price movements has been applied by China in recent months. Following increased dialogue from Beijing on the need to stabilise rising commodity prices, the country's National Food and Strategic Reserves Administration on 16 June announced plans to auction reserves of copper, aluminium, zinc and other materials.
Warehouse inventories have also helped push Grade A copper cathode premiums in Europe to a seven-year high, with a lack of material in the Trieste warehouse in Italy providing significant upward support.
The Argus delivered southern Europe premium assessment was last assessed on 29 June at $105-120/t, its highest level since July 2014. Current premiums are up by 40.6pc, from $70-90/t, at the start of this year (see graph).
By Corey Aunger
Three-month copper and on-warrant stock movement in 2021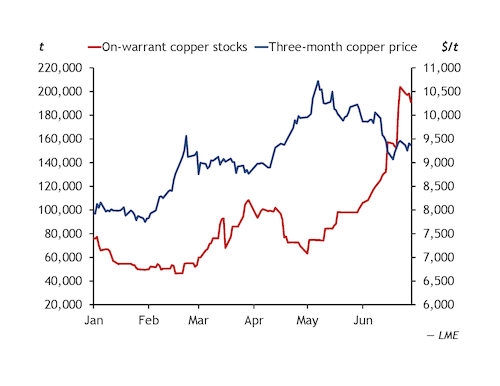 Daily LME on-warrant copper stock totals since the start of 2020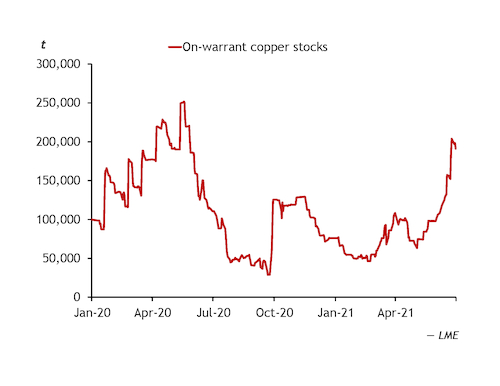 Historic Argus weekly del southern Europe copper assessments