t is unlikely that China's spot copper trading activity will pick up in the first quarter of 2022, market participants told Platts this week, having spent the end of 2021 in the doldrums as smelters in the provinces of Guangxi and Yunnan were hit by power restrictions, while others decided to shut for plant maintenance, leaving inventories at a high.
In December 2021, there were 16 spot transactions, according to S&P Global Platts observations, compared with the monthly average of 30 deals over March-November 2021.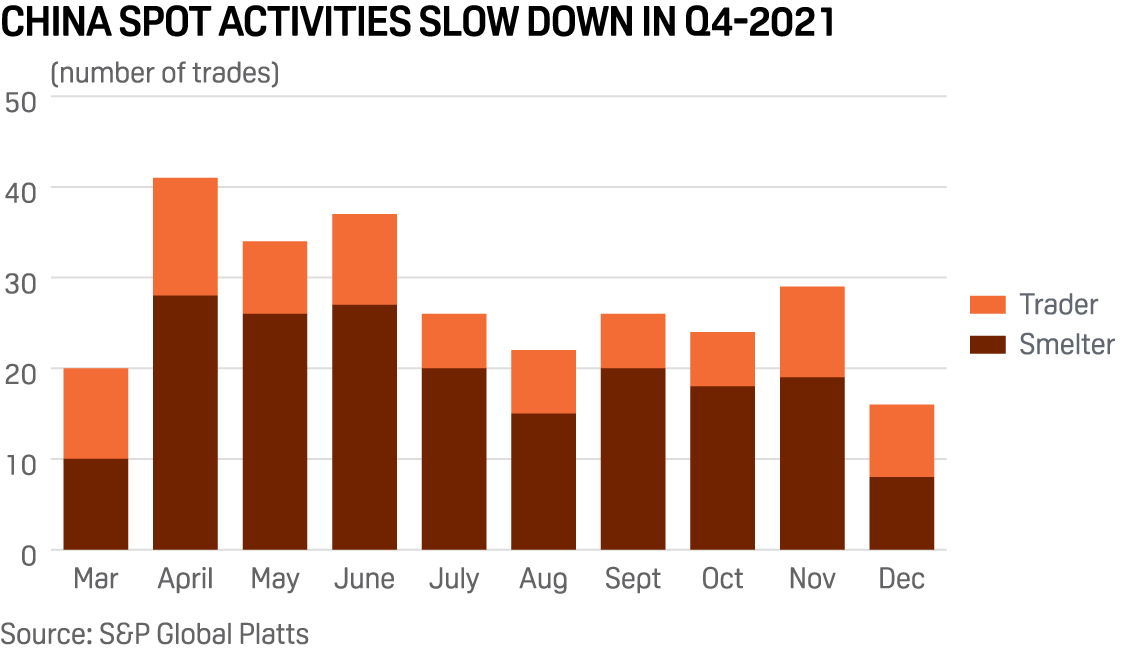 Term contractual tonnage increase
In an effort to minimize their exposure to the volatility of spot treatment charges, as was the case in 2021, many smelters have increased their term contracts this year, which suggests that spot activity will remain muted.
"Smelters were satisfied with 2022 TC benchmark at $65/mt, so many medium-sized smelters have increased annual contract tonnages," a trader said. Benchmark is the annual contract price negotiated between copper producers and smelters for cargoes loading during the year.
A procurement source from a medium-size Chinese smelter said the company had covered 90% of its production needs through term contracts, up from 50% in 2021.
Having secured a stable stream of supply for 2022, fluctuations in spot demand will likely be reduced, market sources said.
On the other hand, sellers of copper concentrates saw the advantage in maximizing contractual tonnages as smelters remained bullish on spot TCs. For Q1 2022, TCs were heard in the mid-$60s/mt.
Term contracts between traders and smelters were mostly concluded at benchmark minus $5/mt, which is around $60/mt, for clean copper concentrate loading in 2022, below spot TCs.
As such, some sellers had maximized their tonnage via term contracts, leaving smelters with limited room to restock from the spot market.
Some Q1 2022 shipments have also been booked in advance, during benchmark negotiations in December 2021, on concerns of spot market volatility.
Stable spot TCs
Despite slow spot activity and increasing copper concentrate supply since last September, smelters had bought clean copper concentrates at $60-$63/mt, Platts data showed.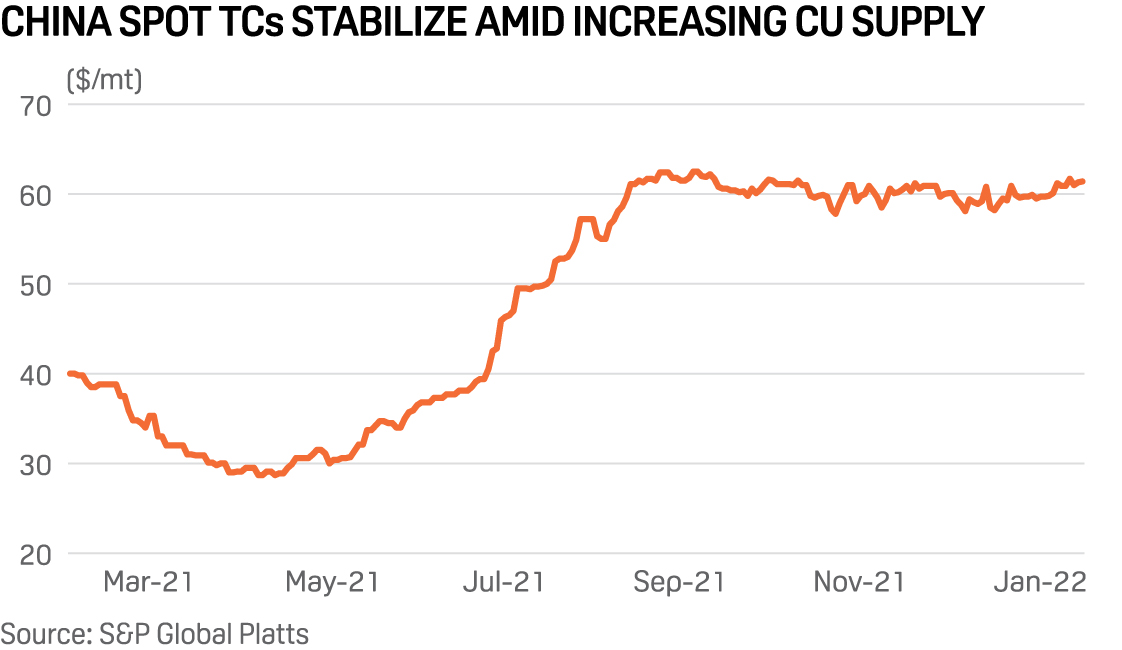 S&P Global Platts assessed CIF China Clean Copper Concentrates treatment and refining charges at $61.40/mt and 6.14 cents/lb, respectively, on Jan. 17.
"The increase in supply in the market is mainly for complex, non-standard or blended copper concentrates, which has limited impact on clean copper concentrate demand," a trader said.
Small to medium-size smelters still prefer to buy standard clean concentrates, and there was also demand from traders for blending purposes, or to market as a package with non-standard concentrates, as the latter has become increasingly difficult to sell given the weakness in spot demand in Q4 2021.
However, despite stable traded TCs, an unprecedented backwardation has also led to changes to concentrate pricing terms. In October 2021, cash to three-month futures backwardation widened to over $1,000/mt, a historical high.
Smelters have started requesting for Month+2 pricing terms to counteract the wide backwardation in Q4 2021, instead of the typical Month+1 or Month+4 pricing at seller's option.
Prompt loading shipment under pressure
Market participants have attributed the quiet spot demand to production cuts in preparation for the Beijing Winter Olympics in February, planned plant maintenance from April to May, and sufficient inventories.
Sellers said it was getting more difficult to get firm bids, while spot TCs are slowly moving up.
"Prompt cargoes could [cost more as it would not be easy for sellers to find willing buyers] as large-size smelters were not buying," a market source said.
More offers for forward shipments were also available and offered at $63/mt to smelters.