Recently, during his inspection in Zhejiang, General Secretary Xi Jinping gave important instructions to coordinate the promotion of epidemic prevention and control and economic and social development. How to overcome the impact of the epidemic to restore economic and social order, and effectively and orderly promote the resumption of production? The important speech of General Secretary Xi Jinping pointed out a clear direction for us.
On April 2, Ningbo Daily and Yongpai reporters conducted a special interview with Lou Guoqiang, chairman of Jintian Copper. Lou Guoqiang said in an interview: "The General Secretary came to Ningbo for inspection, kind and caring, and inspiring. It released important signals and strengthened confidence in overcoming difficulties." Dialectics of the General Secretary's danger machine, Lou Guoqiang Expressed deep sympathy. He said, "Crisis and crisis, you see' crisis 'as crisis, and' machine 'as opportunity."
Jintian Copper saw opportunities and seized opportunities from this crisis. In March of this year, it achieved contrarian growth. Both its output and sales volume hit record highs in history and maintained good economic benefits.
Jintian's breakthrough, thanks to the vigorous construction of intelligence. The company vigorously introduces the world's top equipment, a number of digital and intelligent projects are vigorously promoted, accelerate the intelligent coverage of the production line, and use automated equipment and digital methods to create a world-class smart factory. It is this kind of intelligent workshop that allows Jintian Copper to operate at full capacity with minimal manpower, and production capacity has been fully restored.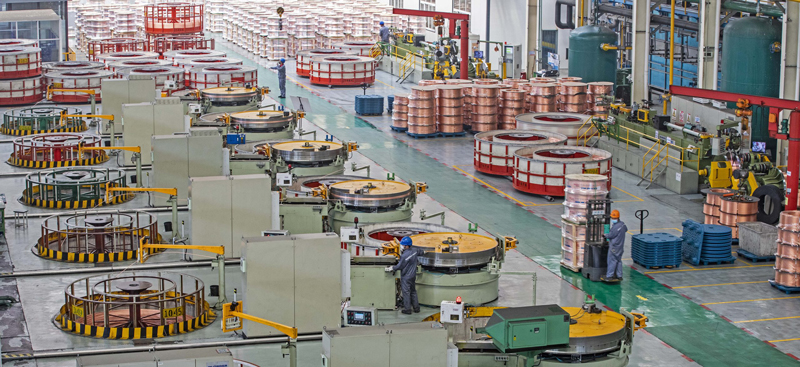 Lou Guoqiang said: "Behind the intelligence, what is more important is" people." People are the company's most important resource, and employees are the company's most important asset. "There is no traditional industry, only traditional enterprises." In the future, the company will lead the company to a higher level through technology and innovation under the guidance of the strategy of "management internationalization and manufacturing digitization". "Create customer value, build a century-old company, become an industry benchmark, and contribute to China's industrial power!" Jintian's goal is determined.