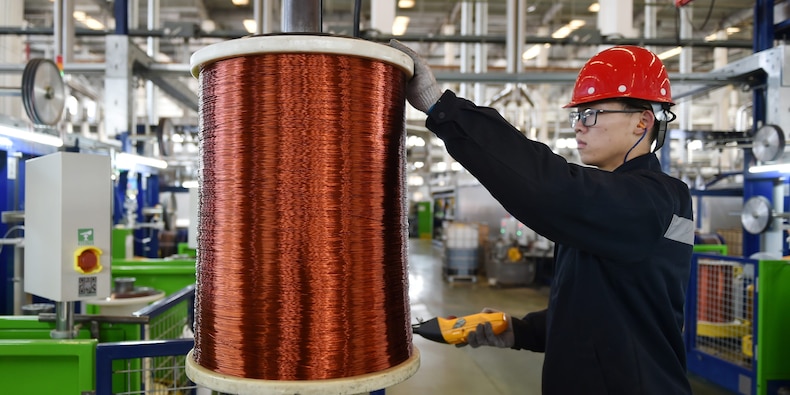 An employee produces copper wires at Nanjing Gree Electric Enterprise Co in China.
Photo by Fang Dongxu/VCG via Getty Images
Copper and iron ore prices have been knocked down sharply in August after steadily running higher since early 2020.

Iron ore prices have lost nearly 30% on demand concerns and China's orders to curb steel production.

"Dr. Copper" as a barometer of economic health is being hurt while COVID cases ramp up.

See more stories on Insider's business page.
Copper and iron ore prices have been slammed this month by demand worries as the coronavirus crisis wears on, while iron ore faces industry-specific pressure as China demands curbs on steel production, prompting questions about whether prices for the industrial metals can return to highs for the year.
Benchmark iron ore prices with 62% iron content in August have tumbled roughly 26% to trade above $156 per metric ton, driving to levels not seen since February. Copper has dropped more than 8% to fetch about $4.111 per pound, the lowest in about four months.
The downward slope comes after prices for the metals had been climbing since March 2020 when they dropped alongside a crash in US stocks as the COVID-19 pandemic threatened to push economies worldwide into recession.
"If you think about from the March 2020 S&P 500 market low to the first half of this year, you saw copper just continue to go higher and that argument of strong metals like copper and strong markets made sense because higher copper prices imply economic growth and economic activity and a need for copper," David Keller, chief market strategist at Stockcharts.com, told Insider.
Iron ore like copper is an important industrial metal as it is a key raw material used to make steel. Production volume of about 2 billion tonnes and export volume of around 1.5 billion tonnes makes iron ore the third-largest commodity in terms of production volume after crude oil and coal, and the second-most traded commodity after crude oil, according to the World Steel Association.
The rollout of COVID-19 vaccinations along with worldwide fiscal and monetary policy stimulus efforts have helped support the upswing in prices for the metals. But investors appear to be growing more cautious about the outlook for continued economic recovery as coronavirus cases increase on the back of the highly transmissible Delta variant.
Meanwhile, the US Federal Reserve appears on the path this year toward reducing the emergency asset purchases it put in place to help the economy weather the COVID crisis, a worrisome prospect for some investors who see the central bank's asset purchases as fostering economic recovery and stoking demand for industrial metals like copper as building projects restart or get underway. Supply constraints had also helped pull up copper prices this year.
For iron ore, Bank of America this week said prices have peaked in part as supply has been catching up with demand. It noted that steel production in China had posted a run of seasonal highs since June 2020 largely because of a rebound after the start of the COVID pandemic.
"That said, output growth has been slowing," driven by a confluence of factors, said BofA commodity strategists led by Michael Widmer. "Looking at demand first, growth has been grinding to a halt, as activity has become patchier, with construction and automotives particular headwinds."
As well, the Chinese government has ordered steel mills to limit production in part to cut down on carbon emissions. It also changed tax incentives in May and July in an effort to better control steel production.
"This matters [as it] removes the incentive to run steel mills for exports," said the strategists.
Moves that could revive iron ore prices include renewed stimulus measures in China and steel restocking ahead of the winter Olympics, which could prompt further mill closures to contain emissions, said BofA.
Keller at Stockcharts.com said the price of copper this week tested the 200-day moving average of $4 per pound, the first such test since June 2020.
"That whole idea of the infrastructure trade – industrials and machinery names — is really coming off here. While I see that as a long-term play, certainly in the short term weakness in copper is agreeing that it's not an ideal time to make that bet," Keller said.